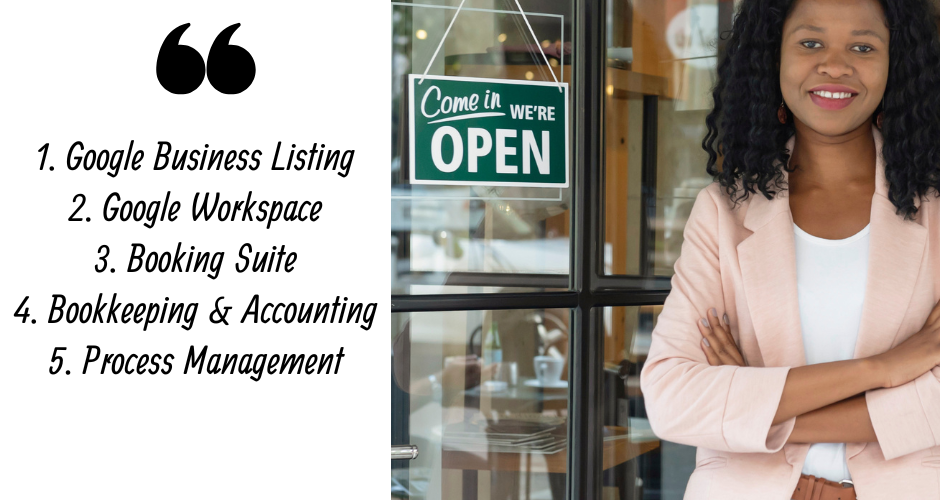 Access to capital, contracting opportunities and other entrepreneurial development opportunities are improved by providing information that empowers minority spa owners to start their businesses on a solid foundation that they can build upon to create a sustainable brand that has longevity.
The need for more minorities to pursue the path of entrepreneurship and small-businesses ownership is so apparent that it is one of the missions of the U.S.Senate Committee on Small Business and Entrepreneurship. According to the Minority Entrepreneurs section of the committee's website, "Over the last 10 years, minority business enterprises accounted for more than 50 percent of the two million new businesses started in the United States and created 4.7 million jobs…Yet, despite that growth, there is still a disparity when it comes to access to capital, contracting opportunities and other entrepreneurial development opportunities for minority-owned firms." This data combined with the demographic statistics that state that 66.2% of the spa industry's owners and directors are white, support the work of the Network of Multicultural Spa and Wellness Professionals (NMSWP).
Minority-Owned Business Owners are Left Guessing
For a variety of reasons, including the need to start small to the need to have flexibility, many massage therapists start their businesses as solo practitioners.  When starting out, they wish that there was a simple checklist that would help them know what exact steps are needed to start up their business on a solid foundation so that they can feel assured and not waste valuable time, energy and money. Starting a business is a major undertaking, even if as a side gig, and there are so many decisions that are being made that people many people get overwhelmed or feel stuck wondering if they have made the right choices. Building a solid foundation is essential—and this is where many minorities in business are left guessing. A solid foundation is crucial to scale into larger businesses, franchise models and brands that garner investment capital and phenomenal opportunities that the owners could not even imagine when they were just starting out. Starting and running a business on a shoestring budget is a common experience for many entrepreneurs. Historically, minority business owners have significantly less startup funds for their businesses. This can be discouraging. There are many societal norms and systems that can lead someone who is a minority to feel they are being conspired against as they blaze the trail to start their own practice.
First Steps of Minority-Owned Business Establishment
Before you dive into the different tech platforms you can use to set your business up for success, you will want to complete these steps to initially establish your business properly: • If you do not have a brick-and-mortar location, establish a virtual office address. You do not want to use your private residence for your business filings as it becomes public record and also makes you look less viable as a legitimate business. • File to establish your business entity with the secretary of your state. A business entity, such as an LLC or corporation, separate you the person from your business. • File for a free tax identification number with the IRS. This establishes a unique identification for your business, just as a social security number is for you as a person. • Open a business bank account. You should not co-mingle your business funds and spending with your personal funds and spending. While it seems pretty straightforward, many minority businesses were not started correctly in this manner. As a result, many were ineligible for federal assistance and programs offered to small businesses during the COVID-19 pandemic. Once you have completed the proper filings to establish a business officially, then you can seek out technology to get the business running on a solid footing.
Technology as a Success Strategy
Compared to many big organizations that fuel their operations and innovations with larger teams and the financial resources for growth, small-business owners should instead rely very heavily on technology to assist in setting their solid foundation and fast-tracking them to grow their business. In some spaces, it is common to hear entrepreneurs being told that, "their first hire should be good technology." This is actually a very solid strategy that takes less startup capital and allows a business owner to set up their business for exponential growth.  In this era of great innovation in technology, software developers are cranking out software programs—both web- and app-based—that fill the gaps for small-business owners and ease the stress of wearing the many hats of the typical solo practitioner. Hiring the right tech can often make a business appear larger, more professional and run like a well-oiled machine, even if it is just a solo practitioner delivering the actual services to the client. Business owners simply need to zoom out a bit, since we often are too close to our own situations to see solutions and be open to the technology that is designed to help. Let's take a look at five types of technology that you should consider hiring to set a solid foundation in business.
1. Google Business Listing
A Google Business Profile is one of the most overlooked, yet easiest—and free—ways to literally get your business on the map in your local community. First, you must go to your business listing and "claim" your business. Then, you need to be intentional and thorough in completing your profile. The claiming and completion of your profile will allow you to have photos of your location, and social proof photos of your work, as well as to create incentives to get your clients to leave you reviews. Anyone using Google Maps will see your business listed once this is completed. Adding regular content to your profile, including garnering customer reviews, will assist in improving search engine optimization (SEO) which will further increase ranking in your local market. Each month, they will send you insights that will assist and support marketing initiatives. TIP: Use the keywords that prospective clients would be using when searching for your services in your service description and complete as much information as possible. Including links to your booking site will allow people to search, find you and book easily.
2. Google Workspace
Google Workspace is one of the least expensive and easiest-to-use ways to have a professional email and communications platform. Investors and banks do not take you as seriously with a general-use email address (xyzmassage@gmail.com) but with Google Workspace, you use your own domain (info@xyzmassage.com) and it gives a more refined brand impression. This increases the credibility and professionalism of your brand to outsiders looking in. Internally, this improves your communications and planning. It allows you a business email and calendar to work from and keeps it separate from those you use for personal purposes. Also, most other software platforms easily integrate with Google Workspace so that information is synced into one place within the workspace. TIP: Use your Google Calendar to organize your whole life's activities and appointments by adding other calendars that are color-coded. This allows you one place to view your obligations and plan your personal and professional commitments. By doing this, the days of forgetting to do important things in your personal life because they conflicted with professional appointments and vice versa will be in the past and you can proactively schedule and plan your availability.
3. Booking Suite
Unlike the above two, these will not be as specific to an exact option. Instead, you need a booking suite that allows prospective clients to book with you on demand and in a self-service manner. Two current favorites are Square and Gloss Genius (or search Google for booking software). There are many options available that will suit your needs and they vary in their features and pricing. There is a booking platform to meet all needs. This is why "text to book," "call to book" or "DM to book" all leave the impression of a lesser quality customer experience than clients being able to go to your booking suite to book at their convenience. This also removes you as the middleman, which means the booking process can still happen while you are booked doing other things. You will find that you will end up with more bookings if you are not the gatekeeper to booking. Good booking suites let you enter all your days and times of availability, service descriptions, timing and pricing, as well as the policies of your company. The best-of-the-best booking platforms include a payment gateway (method to accept card payments or bank transfers), allows you to secure a credit card on file and send an initial client intake form, as well as send a series of email or text reminders, which reduces your incidence of no-shows. They may also allow you to send follow-up and nurturing emails after services to further build a rapport with your clientele and treat them as your VIP. TIP: Use the notes feature in your booking suite to add additional details that allow you to customize your services. Make note of favorites, preferences and other specialty items that will allow you to add a "wow factor" to keep your clients coming back and feeling special.
4. Bookkeeping & Accounting
There are numerous types of bookkeeping and accounting software that will assist you in managing the finances of your business. Two current favorites are FreshBooks and QuickBooks (or search Google for bookkeeping and accounting software). It is best that you sync your business bank account to the bookkeeping software of your choice. This allows all spending from that bank account to be categorized into the proper segments (i.e., marketing, supplies, professional fees, etc.) that will assist you in financial planning and forecasting and will make tax preparation easier for you as a business owner. You can also sync your payment gateways with this technology to track all your business income in one place. By tracking all income and expenses, you will be able to have a constant pulse on your financials, including cash flow, profit and loss and other important metrics. This allows you to share reports in real-time about your business's financial health, which is often requested when applying for programs that provide mentorship, financial assistance or other types of support. TIP: You can start using this software for a reasonably low cost and then pay to add a bookkeeper or accountant to your profile so that they can assist in making sure the information is accurate. They can advise you on any corrections or adjustments that you need to make. Often, it will save you money on financial planning, tax advice and preparation because the software keeps so many of your financial details in order.
5. Process Management
Before you can hire a team to serve more clients, you need to document all your significant processes and protocols. Thinking of the steps that are needed to duplicate all the things that you do repeatedly, and often in autopilot can be daunting to many and ends up paralyzing their ability to move forward. One of the easiest ways to create your operating procedures and protocols is to use process management software. Two current favorites are Process Street and Notion (or search Google for process software). These programs allow you to create checklists and task decks for the processes that you do repeatedly. This also allows you to document some of the special touches or brand-signature methods you have integrated. Once you document the processes, the software allows you to name the services and formalize the lists of what to do into official service procedures and protocols. Process-management software will help you identify ways to streamline methods in your business to save you time, energy, and money. It will also help you identify signature elements that may be worth protecting with trademarks. Finally, it serves as the basis to help hire and onboard a team to work for you that will provide a consistent service experience that strengthens your brand identity. TIP: When you keep in mind the adage "it's not what you do, it's how you do it," you can find ways to make your repeatable processes, procedures, and protocols more meaningful, yet efficient. Creating your standards allows you to innovate ways to stand out by making how you do something a bit unique for your clientele.
Your Solid Launchpad
These are tried-and-true tech resources that will lay a foundation so solid that it will feel like a launchpad. The next part in this series will cover information helpful for when the minority-owned business does take flight—to help gain momentum and leverage for more success.