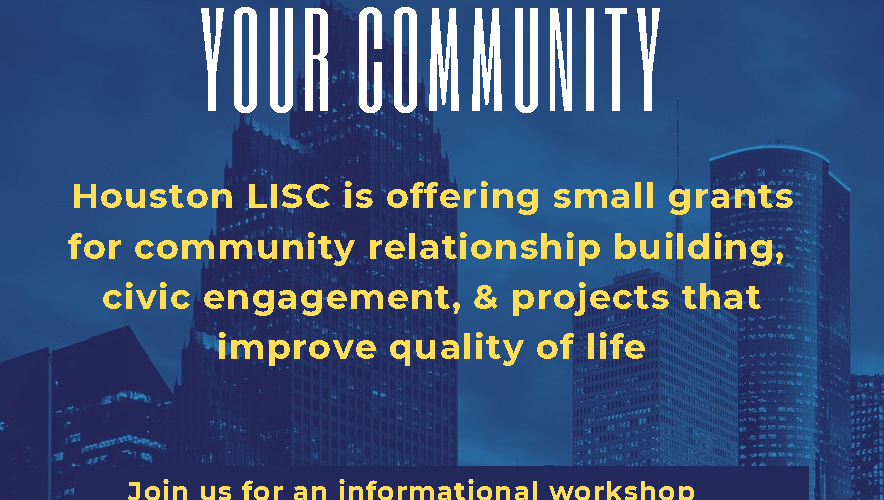 Hello Community Members,
Happy New Year! Houston LISC offers small grants to support community-led projects, activities, and campaigns. The goal of these grants is to seed community building and improve quality of life at the grass roots level. Grants are for $500-$5000. Ideal applications are for projects that develop civic engagement, community relationship building, and support existing neighborhood plans. LISC is hosting 2 virtual information workshops for the grants: January 13th, noon-1pm, and January 20th, 5:30-6:30pm. Registration is required. Anyone interested in applying is encouraged to bring project ideas to a grant workshop. Click the following links for: workshop registration, information packet, flyer, and grant application. Applications due no later than April 15, 2021.
The LISC Sports & Recreation team is excited to announce a new round of funding for the NFL Foundation Grassroots Program.  The program offers matching grants up to $250,000 to build, refurbish or add amenities to multi-purpose playing fields that feature youth football programming.  Click here for the Request for Proposals and here to get more information about the program. Proposals are due May 31, 2021.  LISC will host a web meeting on January 14, 2021 to inform and answer any questions about the program.
H-GAC (Houston-Galveston Area Council) is hosting the Storm Debris Workshop Thursday, January 7, 10am-1pm. Click here for more information and registration.
Harris County and Rice University are conducting an anonymous survey to improve homes in Houston/Harris County neighborhoods. All residents ages 18+ are asked to complete the survey. Click here to learn more and take this 10 minute survey (in English & Spanish).